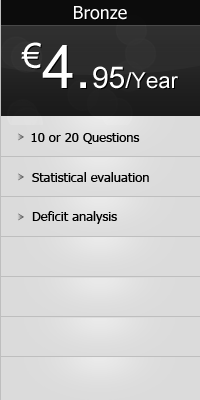 Our rule tests are based on the cataloque of the International Handball Federadtion (IHF).

You can choose between a number of 10 or 20 questions, which will be selected at random. The number of tests is not limited. Of course, all the features of the basic version are included.
After the last question of each test, you get a statistical analysis (reaching points, reached%, time required, etc.).
You also get a deficit analysis. Here are shown your not correctly answered questions with the correct answers og the IHF catalog of questions. So you are able to compare your answer with the correct one. In addition you get the number and the reference of the IHF catalog of questions.
In our

rate overview you are able to see all rates compared. At the end of the page we also included some, so that you can get a first impression.

The subscription expires automatically after one year and requires no additional termination.
Our terms an conditions are applying.

terms and .
Vorschaubilder